Wow, it's already December 31st, the year 2018 is almost over, unbelievable how fast it went by. No, but all the clichés aside, 2018 was really a great year! Full of beautiful trips, but also with many special moments with friends and family! And because today is the last day of the year, I like to look back at all the moments and things that I am grateful for this year!
---
1. New Year with my dear friends in Bali
The new year started very good with a super fun party with my sweet friends Nicole and Susie! Not only did they come to visit us in Bali during our world trip. As a birthday present, they also gave us a great dinner and party on the 31st of December and then also another amazing party day on January 1st!
After two months of travelling at a high pace, Bali really felt like coming home for me. On the one hand, because we have been to the island more often and I love it, but especially because I was really at home with these sweet girls. I can laugh, chat and cry with them, they are always there for me!
---
2. Feeling alive above the glaciers in New Zealand!
Wooow this was so much fun: flying above the glaciers in New Zealand with a helicopter. We saw the ice-cold glacier water pour down into large waterfalls and flew so close to the ice walls that we could count the deep blue cracks in the glacier. Beforehand I was a bit anxious to go into that helicopter, but as soon as we took off and flew over those beautiful green hills, there was no trace of fear and I was full of adrenaline.
This helicopter flight was for sure the highlight of our entire trip through New Zealand.
---
3. When it stopped raining in French Polynesia!
For months I had been looking forward to the clear blue sea and white beaches of French Polynesia. But unfortunately, there came a big hurricane over the Pacific, which eventually hit the Tonga archipelago. We were already very happy that we were only in the 'outliers', but nonetheless, this meant days of storm, flooding and a dark grey sea.
How special was it that it stopped raining, much earlier than predicted, the weather completely cleared up and we still could enjoy some sunny days in French Polynesia! And those days were really great!
---
4. The warm welcome when we landed in Amsterdam!
Oo I really wasn't looking forward to going back to the cold Netherlands after four great months of travelling. When we flew from Los Angeles to Amsterdam and heard that it was -10 degrees and there was a lot of snow, we were even more reluctant.
That feeling, however, disappeared immediately the moment we walked through the arrival doors at Schiphol and saw a whole group of friends and family waiting for us. It was such a warm and loving welcome. All those lovely people who were waiting for us with balloons and welcome packets, really heartwarming! This made it a bit better to be back in cold rainy Holland.
---
5. Our new website and everything that comes with it!
I was so happy when our new website went live on June 1st! After weeks of working until the early hours and chronic sleep deprivation (because we did this next to our two full-time jobs), the champagne could finally be uncorked! We celebrated the 'go live' with a boat trip with friends Lester and Jeremy through the Amsterdam canals and of course with a bottle of champagne!
This new website never would have existed without dozens of e-mail exchanges with and a lot of help from our friend Hans (Hans Wassink, owner of Wavelabs). But I am not only grateful to Hans, my parents have also spent dozens of hours on reviewing blogs. Did you know that every (Dutch) blog before publication is edited by my father or mother on misspellings? Thank you, mom and dad!
And finally also a lot of thanks for Ries. Even though he is as much owner of Charlotte Plans a Trip as I am, I am very grateful to him for his amazing amount patience: When he has to adjust a picture up to four times because I just do not like the colours well enough or when he is editing movies all weekend long.
---
6. The moment a school of dolphins swam with our sailing boat in Belize!
The sun was low and almost went down. It was the golden hour: when everything seems to be covered with a warm golden glow. The Raggamuffin sailboat with which we sailed over the Caribbean Sea for three days, smoothly sailed through the water. It was a beautiful day where we had seen some nice fish while snorkelling and a big barracuda was caught for dinner. Everyone sat roaring with rum punch to enjoy the beautiful view.
Suddenly we hear excited screams. What turns out: there is a small school of dolphins swimming at the prow! The beautiful animals swim with us for minutes long. Playing with the bow and with each other, we see them coming up again and going down. They are so close that you see the drops of water falling from their shiny, thick bodies. For me, this is a dream coming true: I've only seen dolphins a few dozen meters away and I love these animals. To be so close that I can almost touch them is really special!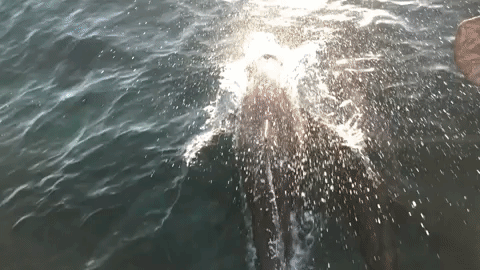 ---
7. All new and old friends with whom we have travelled the past year!
We travelled with some really nice people this year! From old friends who travelled along to a lot of new friends, we met during a trip.
In New Zealand, we met Marie and Cédric, whom we later visited in Switzerland. In The Philippines we travelled for a week and a half together with Jorinde and Tim and then back in the Netherlands they showed us 'their Texel'. With Thomas and Christine we went to the Champagne region and with Susie and Gal, we enjoyed the sun, sea and great food in Tel Aviv.
But also during our recent trips to Guatemala and Belize, we made a lot of new friends. Travelling together, playing cards on the bus for hours, and shared 'suffering' during hard volcano hikes, for me, it really makes a trip even better when I'm with friends!
We look forward to 2019, a year four of trips with existing and new friends.





---
8. When I was taken on a big surprise weekend to Scotland!
I was sitting behind my laptop, working when Ries suddenly surprised me: That same evening we were going to fly to Glasgow. Scotland is a place I wanted to visit for a long time, and for my 27th birthday, Ries had arranged a surprise weekend get-away. We slept in the most adorable lodge ever, made a beautiful hike and saw a number of film locations from the Outlander tv show. A blog about this trip will be online very soon!
Scotland was our last trip in 2018 and that means that the total number of countries we visited in 2018 is at 14!
---
9. For all help while organizing the surprise dinner for Ries!
But Ries was not the only one who organized a surprise. Together with his friends, my parents and my friend Fay, I organized a surprise birthday dinner for Ries. He was going to turn 30 on December 16th and I wanted to do something special. After more than five months of planning, secrecy and 'erased' WhatsApp groups, we surprised him on December 7th with a six-course dinner. It was a great evening that Ries enjoyed tremendously.
All this would never have been possible without my parents who had been cooking here all day, Fay who helped cook and serve the six courses in the evening and of course all the guests who had been silent for five months and participated in this evening!
---
10. For you: my dear readers and your sweet reactions!
And perhaps the most grateful I am to you! Readers who come back every week to read what trips we are making. When I have a bad day, it is completely good again when I get a nice comment from a reader. I get highly motivated to write more when I read that our blog helped someone to make a decision or to book a trip. Your sweet messages via Instagram or by mail are really heartwarming and for me the motivation to write two new blogs every week! Without you, Charlotte Plans a Trip would not exist and therefore:
Thank you!
Love, Charlotte